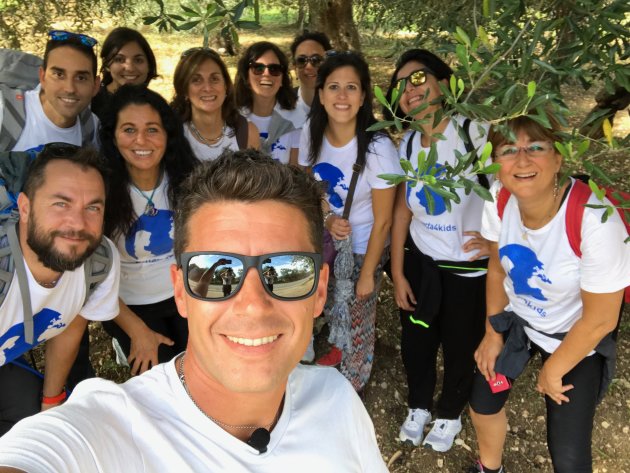 The Christmas of 2015 was to be for Marta Lazzarin and Christian Cappello the last to be spent in two. After 15 years together, during which they founded a travel blog , she was pregnant with their first child. Marta and Christian were not used to exchange traditional gifts under the tree, but donations, in the name of one and the other. In that year, without agreeing, they chose the same non-profit organization, which raised funds for research into cystic fibrosis. They then thought of touring Italy, telling their journey to make known rare diseases.
A few days later, however, Marta died in a hospital bed and her son also left. On 2 April 2016 Leonardo should have been born. Since their death, until that day, Christian has spent time crying, isolating himself and even thinking about suicide, but on that same date he decided to mark his rebirth: he embarked on a journey on foot around Italy , to visit the twenty-seven centers of cystic fibrosis research in person, raise awareness of the disease and raise funds for the cause. He decided to do it "both to realize the will of Marta, both to save my life, to give it meaning, helping others".
He told it in person in the book "Go ahead" , published Mondadori. An atypical travel diary, in which the story mixes with the outburst, the need to remember and, in fact, move on. The report of a journey to give meaning to one's life, through solidarity, given and above all perhaps received.
"I will leave on foot, with Martha virtually by the hand and my little Leonardo on my shoulders," he had written in a blog before leaving. Certainly he did not imagine that at his side, in the more than 4 thousand kilometers on foot, would have walked thousands of people hitherto unknown, sick, familiar, doctors or curious, ready to host him during the stages and to extend his hand, to help him continue in the hardest moments.
Pope Francis, who wanted to call him in person to encourage him in his turn, came to know about his story. And from this story was born a non-profit organization, Marta4Kids , which raises funds for research.