Venice is one of the most loved cities of our country, a unique place in the world rich in history and charm, a place able to offer an always suggestive atmosphere in every season of the year. Although it takes a long time to get to know the Venetian lagoon, it is possible to see Venice in one day walking discovering the main places of the city. Today we offer one of the itineraries to visit Venice on foot, to admire the historic buildings and monuments from Piazzale Roma to the wonderful Piazza San Marco .
One day in Venice: departure from Piazzale Roma
This Venice tour starts from Piazzale Roma , the terminus for those arriving in the lagoon by car or bus, while those using the train descend to the Santa Lucia station, located a short distance away on the other side of the Grand Canal . From both points it is possible to take the vaporetto , a true symbol of Venice like the gondola ride , opting for lines 1 and 2 that go up the main Venetian canal until reaching Punta della Dogana da Mar, near Piazza Saint Mark.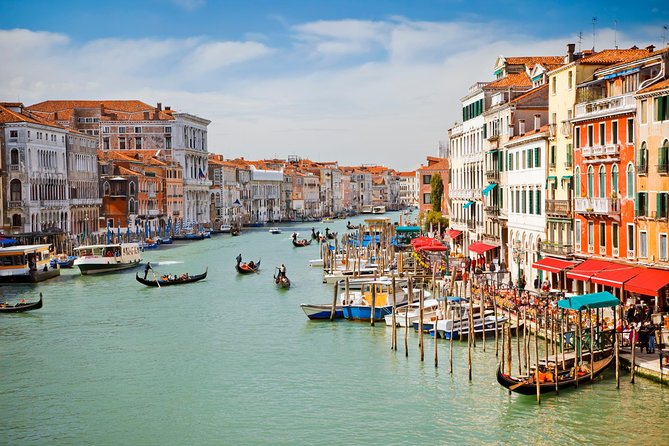 The whole journey takes about 40 minutes, however by purchasing the day ticket you can get off at any vaporetto stop, using the means to see Venice in one day, discovering the beauties present along the two banks of the Grand Canal. Alternatively it is possible to start from Piazzale Roma and continue on foot , the itinerary is almost identical, but by boat you can easily reach both shores in an easier way.
Visit Venice in one day: the Constitution Bridge
The first place of interest, during the walking tour of Venice, is represented by the Ponte della Costituzione , the controversial architectural work carried out by the famous Spanish architect Santiago Calatrava, which has recently undergone an intervention to replace the glass panels of the pavement. It is a spectacular work inaugurated in 2008, considered a true masterpiece of architecture and design, near which is also the beautiful Chiesa degli Scalzi , which houses the body of the last Doge of Venice, Lodovico Manin.