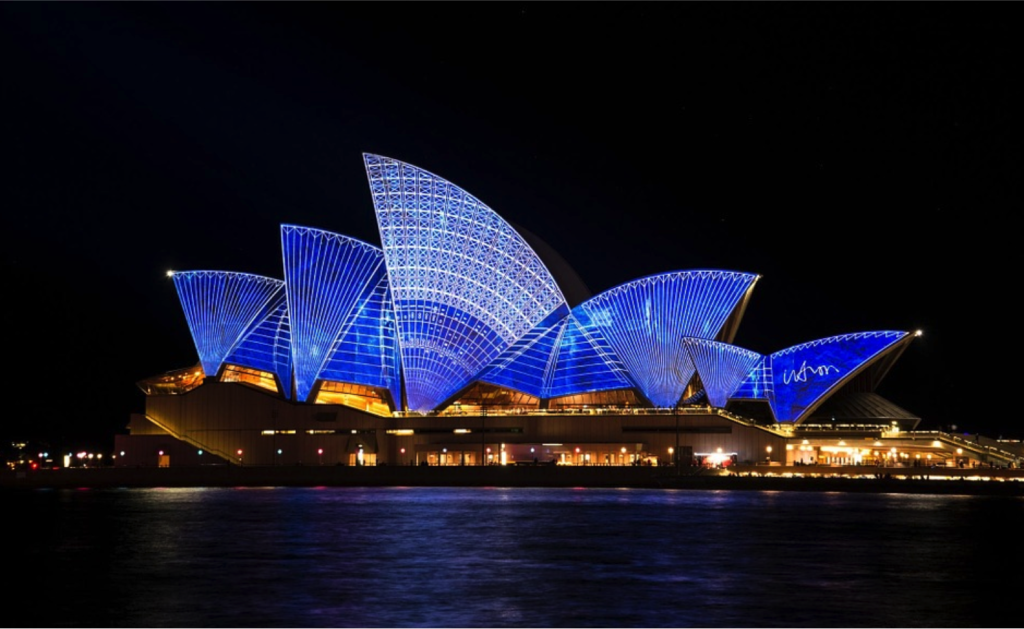 Australia is the only continent being a country engulfed by the South Pacific and Indian Oceans. There is a bucket of awesome tourist spots in Australia to be visited. Sidney, Melbourne, Perth, and Brisbane are among the top most attractions. The beautiful country is known for its boundless expense of cultural, coastal, urban, and green lands. The panoramic views of coastal cities, sun-drenched seashores, hinterlands, rainforests, dry mountains, and savannas provide spectacular experience to travelers.
Australia is the home to clean and serene diverse locations, may it be cities, coastal areas, tropical and subtropical lands, enchanting mountains, or islands. It is the country of whales, penguins, dolphins, kangaroos, kiwis, and mineral resources.
Once back to the homeland, travelers will still appreciate the perennial vision of the dwelling sites of Australia. Here is the list of the most attractive wonders in Australia.
Sydney
Sydney is the largest city and the capital of New Whales, located on the Southeastern Coast. It is the gateway to international travelers from different businesses and classes. It is the driving metropolitan city with its culture, entertainment, and sports events. The Opera House is an awe-inspiring complex soaring high in the sky with its amazing flanges. These five flanges represent the performance spaces for music concerts, dance, opera, and theatre, where the standout genre is awarded. Sydney Olympic Park is the sports and entertainment complex, where 2000 Olympics was conducted. It had been renovated at the time, and it continues to be the venue for top-notch sports events and fixtures. Sydney Harbor, Bondi Beach, and Royal Botanic Garden are other areas of attraction in Sydney.
Melbourne
Melbourne is the capital of Victoria and the central hub connecting to other parts of the country. It is the beautiful city known for its world-class restaurants, shopping complexes, alpine hinterlands, artisanal bookshops, galleries, sports venues, and more. Harbour Town, Queen Victoria Market, the National Gallery of Victoria, Melbourne Cricket Ground, Healesvile Sanctuary, Melbourne Aquarium, and Yarra River are some haunting venues in Melbourne.
Phillip Island
Phillip Island is a popular tourist spot in Victoria near Melbourne. Visitors can enjoy wildlife viewing, which includes watching dolphins and koalas. The audience at Summerland Beach watches a group of penguins coming on the shore. The Nobbies center is the largest colony of fur seals, where sea rocks, sea caves, and bird gardens can be found. Surfing, car racing, and motor bike riding are some of the activities performed in Phillip Island.
Bryon Bay
Bryon Bay is a small town in North South Wales, which is a tranquil destination. Cape Bryon Headland Reserve is surrounded with sea cliffs, coastlands, hinterlands, beaches, and more. Rainforests, zoos, parks, hidden beaches, and steep rock faces can be found in some other reserves.
Perth
Located on the West Coast, Perth is a bustling city that comprises amazing parks, beaches, museums, islands, and rivers. Some popular attractions in Perth include Swan River, Cottlesloe Beach, Lake Monger, Marmiom Marine Park, Scarborough Beach, Wanneroo Botanical Garden, and the Bell Tower.
Brisbane
Brisbane offers manmade tropical paradise with serene parks, botanical gardens, boutiques, etc. In Riverlife Water Center, visitors go for boating, abseiling or rock climbing, and other activities. The Brisbane River, Story Bridge, D'Aguilar National Park, and the Australian Zoo are other places to explore in Brisbane.
There are still more magnificent sites in Australia, which are limitless and a few of them are secluded. Better plan to explore a set of destinations in a trip based on popularity and the individual's interests. Happy journey!